Security Camera Intelligence
Accurately detect deliveries, people, animals  ·  Continuous recording  ·  Private storage
Shop Now
Camect for Pros
Camect does for your security camera experience what Dolby does for an audio system experience. Let Camect take away the noise so you clearly see what you need to see.

The Camect Smart Camera Hub is the world's smartest, most private AI camera hub. Camect solves the problem of alert fatigue by filtering out useless distractions from bugs, animals, shadows, weather and more. At the same time, Camect empowers professional and self-monitoring by elevating useful alerts about people in places they shouldn't be. To top it off, Camect offers private storage, continuous recording and a great camera system experience.
Smart Alerts proactively expose activity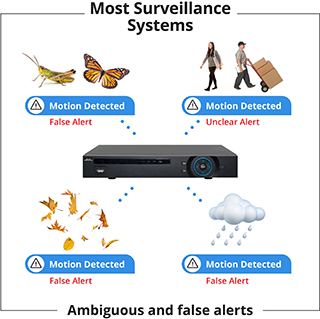 Powerful AI provides accurate alerts
Most camera systems provide generic 'motion detected' notifications or false alerts for trees, insects and weather.
Camect provides a completely new experience with AI (artificial intelligence) generated detailed and accurate alerts.
Access privately and securely on the go
Camect provides you with secure and private access from your phone, tablet, computer, or even Amazon Alexa device. You can view live cameras, recorded video, and get detailed alerts so you know what is happening at your home or business.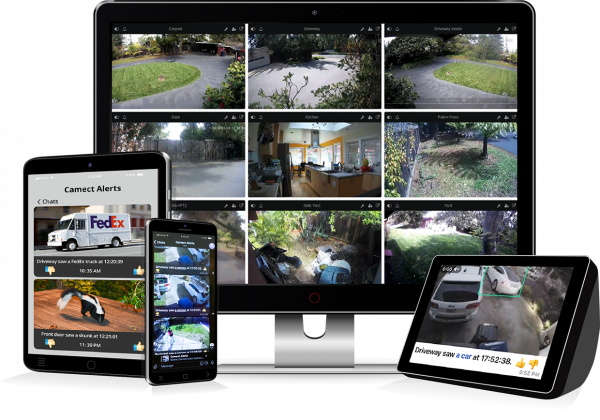 Continuous recording captures everything
Choose from many cameras.
Any IP Camera
Nest, Arlo and Wyze cloud cameras
Compatible with Onvif and RTSP. Onvif cameras are auto-detected. See our compatibility list for details
Reduce costs (up to $80 per camera) and allow continuous recording and smart detection.
Now available in our store
The Camect Home advanced network video recorder provides 24×7 recording, AI powered smart alerts, and stores camera data securely in your home.

I have to say your object recognition is one the best I have seen so far, and for that pricing its without alternatives, and I already worked with Briefcam, Anyvision etc.
I've got 15 nest cams running through it currently and the person alerts are very accurate so far. Their support through the forum is very responsive at this time too.
This is by far the most successful product that I have purchased for my smart home system. I'm not exaggerating. Almost all IP cameras do not detect people so I often get a lot of false alarms. With Camect my life is much much easier.
Pro-grade features and un-matched alert quality provides next generation surveillance.
Eliminates false alarms and can be integrated with professional monitoring centers.
Interested in New Camect Features and Deals?